---
Inspired Concrete . . .     Create it .    Protect It .
---
United under the leadership of the Fenix Group – a powerhouse of super brands in the paint and specialty coatings industry – SureCrete and TK Products are a collaborative team of product developers and manufacturers in the concrete and masonry industry.
Offering systems tailored to the refurbishment and beautification of concrete, while protecting and preserving it from everyday stressors and environmental influences; our products keep concrete looking and performing at its best throughout the four seasons.
We lead the field with nationwide sales and technical support, product training and specification assistance, dedicated customer support and marketing teams.
From decorative concrete products and concrete restoration systems, to high performance concrete sealers and coatings, SureCrete and TK Products together have the solution to all of your topical concrete needs.
Recieve Promo Code – News and Updates :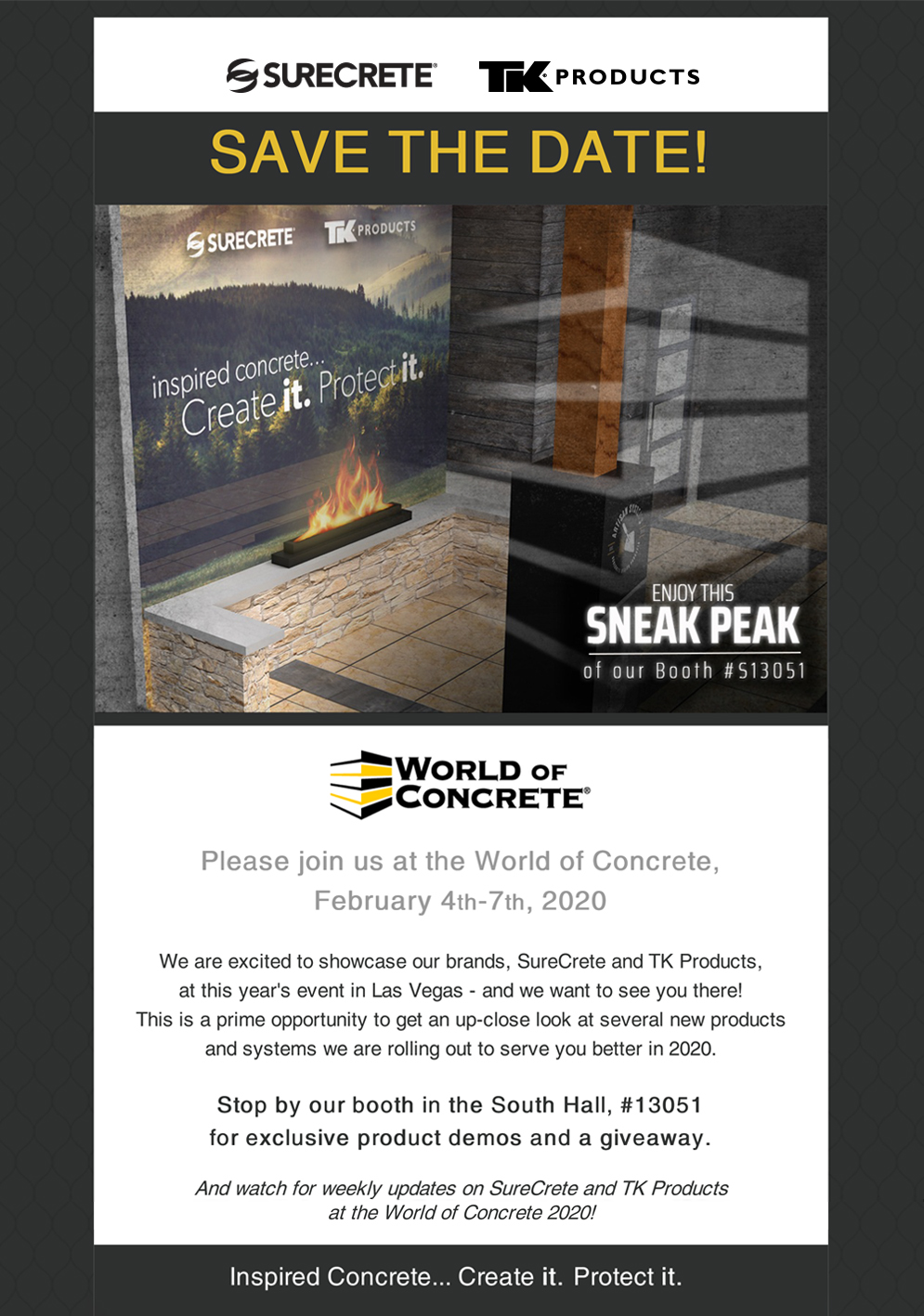 Solutions Offered by SureCrete and TK Products:
Coatings/Stains/Sealers
• Coatings, architectural
• Coatings, epoxy
• Coatings, other
• Coatings, polyurea
• Coatings, urethanes
• Floor hardeners
• Sealers, acrylic
• Sealers, blends
• Topping mixes, prepackaged
Admixtures
• Admixtures, integral color (powdered)
Concrete, Mortar & Grout
• Concrete & mortar: repair polymer
Concrete, Pervious
• Concrete, Pervious Overlays
Decorative Concrete
• Colored Hardener/Dry Shake Color Hardener
• Colored Release Agent
• Decorative Concrete Dyes
• Liquid Release Agent
• Surface Evaporation Retardant
• Surface Protection Products
Coatings, Masonry
• Coatings, anti-graffiti
• Coatings, water-repellent
• Waterproofing & dampproofing materials
Finishing Tools & Equipment
• Curing compounds
Repair Materials & Equipment
• Bonding agents, polymer
Water Drainage/Protection
• Vapor and Air Barriers